You've probably seen it before: As you scroll through your Instagram feed, new posts and stories from a fashion company constantly catch your eye. You like not only the products, but also the Instagram content of the fashion brand. 
The perfect post about branding, creativity and aesthetics. The same filter is used for all images. As a result, the Instagram profile of the fashion company leaves a very unified, professional, artistic and clear impression on the website visitors. 
In addition, some companies like Frye rely on interaction with their followers on their Instagram accounts: 
When they post photos of themselves using Frye products, they may also be using Frye products.Use a special hashtag to post it on the company's Instagram account. 
Frye 's Instagram account is a prime example of successful social media marketing :
The account is visually appealing, showcases the brand perfectly, has over 200,000 followers (as of January 2022) and 
Promotes the company's products. 
Download: Social Media Trends 2022 
But why is social media marketing so important? Why should businesses absolutely create their own social media accounts? And how can you develop a social media strategy that meets your specific business needs? 
 In this guide, we answer all these questions. But first we need to clarify: 
– What is social media marketing ?
– Advantages of social media marketing 
– Creating a social media marketing strategy 
– Social Media Marketing Indicators 
– Social Media Marketing Resources 
– What is social media marketing? 
 Social media marketing (SMM for short) is a subarea of online marketing. 
 In social media marketing, you create content with the goal of attracting attention and interest for your company and products or services on various social media platforms such as Facebook, Instagram, Snapchat, TikTok, Twitter, and more, unique and specific to the platform on which you share the content. Benefits: Your brand awareness can increase and your conversion rate can improve. 
 Due to the growing number of users, social media has become firmly established in the marketing mix of many companies in recent years and has become an important marketing channel.
Advantages of social media marketing
There is a lot to be said for using social media marketing for your own business.
1. increase brand awareness 
 Several million people in Germany use social media. On Instagram alone, 80% of the audience is between 1
and 29 years old. You can see from this number that you can reach a lot of people through social media. For this reason, it is important for your business to use at least one social media platform to share content about yourself and your products. This way you can increase your brand awareness. 
 Since user interaction is so lively, this proves that social media contributes significantly to brand awareness. Social interactions include comments, likes, shares, and reposts. 
 Another advantage of social media for increasing brand awareness: You can direct visitors from social platforms directly to your website. This is easily done by placing links to your website appropriately – be it in your profile, in your posts or in your profile.
 2. generate leads and improve conversions 
 By using social media to promote and share your products, you automatically reach the right target audience: namely people who already follow your account and are therefore interested in your business. Therefore, social networks are ideal for generating more leads, improving conversion rates and generating higher sales. 
 Here are some examples of how you can use social media marketing to generate even more leads: 
 Host online sweepstakes for visitors and profile followers of your social network. 
 Promote special offers in your publications. 
 Host live streams to announce products or share exciting company news. 
Sell your products through your social media profiles. For example, set up a Facebook store or Instagram shopping feature on your profile. These features allow your visitors to click on the products you've shared in your posts to get more information such as price, material, and size. The visitor then has the option to purchase the product and pay through the platform. 
 3. maintain customer relationships 
 When you connect and interact with your followers on social media, you create a lasting relationship between your business and them. Interact with your followers in your posts, respond to their questions and comments, and offer advice and support. 
Gain the trust of your subscribers. And show how much you value their feedback and support by asking them what they think about the product and the challenges they face. Or hold raffles or prize draws. 
 So, you often have to ask yourself if you are extending your customer service to social media to have lively conversations and conversations with existing and new customers.
Learn from your competitors 
You can also find out what your competitors are doing on social media: 
What social media tactics are your competitors using and what products are they promoting?
What campaigns do you use and how do you interact with subscribers? 
 How to know what works and what doesn't against your competition. From this, you can deduce what you can change about your social media strategy. Bottom line: compare your marketing approach to your competitors' social media accounts – it's worth it. Make your marketing content stand out from the competition and present your brand in a unique way.
What's the strategy for it? Below, we'll go into more detail about how you can develop a sustainable social media strategy and give your business a positive boost. How do I create a successful social media marketing strategy?
– Set goals 
– Research target groups and personality of buyers 
– Finding the right social media platforms 
– Create unique and engaging content 
– Schedule posts 
– Analyze effect and results 
– Getting Started Getting Started with Social Media Marketing 
Here are some things you can do, 
to improve your business and 
increase your social media success. 
1. set goals 

 First, you need to be clear about what you want to achieve with your social media marketing activities. As mentioned earlier, many companies are interested in increasing brand awareness, generating more leads, or achieving higher conversion rates. 
 As a company, however, you can pursue even more goals: 
– Customer loyalty 
– Build brand identity 
– Improve communication 
– Address and develop new target groups 
– Find partnership 
– Recruit and build employer brand 
– Collect customer feedback about a product or service 
– Introduction of a new product or service 
– Increase customer loyalty  
 When selecting the "right" goals, you need to make sure they align with your primary business objectives.
2. research buyer personality and target group 
 The first step in developing a social media marketing strategy is to identify your buyer personas and target audience. This is the only way to meet their needs and preferences. Think about who you want to reach and why. And ask yourself how these people fit into a group. 
 Let's say your company sells leggings and fashionable sneakers. Then you have the opportunity to define your target audience as millennials (the generation born around the turn of the millennium) who love to wear fashionable sportswear. Athleisure is the name of this fashion trend. 
 Considering your buyer personas and target audience, consider the type of content you can use to reach your target subscribers and prospects. In addition, develop a plan to engage your subscribers with engaging content. 
 3. decide on which social platforms you want to be active 
 It's important for marketers to determine which platforms they want to share their content on. There is no one-size-fits-all solution when it comes to choosing the right social channels for your business. Therefore, find out about the requirements of your target group and which platforms they use most often. 
Because young shoppers make up the majority of Instagram users. 
 Other social media platforms you might consider in your strategy include: 
 Facebook: The social network has around 3 billion monthly active users, around 68% of whom are aged between 20 and 29 in Germany. 
 YouTube: With over 2 billion users, YouTube is the largest video platform among social networks. 
 Twitter: This social network has about 350 million users, most of them men. 
 Pinterest: The visual networkused by more than 10 million people worldwide, three quarters of them women.
 WhatsApp: With 2 billion daily active users, messaging services have become an integral part of daily life. 
 Instagram: The picture and video network has around 1.2 billion users. The target group is mainly young people. 
 TikTok: Nearly 700 million people enjoy the platform's sometimes crazy videos. 
 Snapchat: Snapchat has about 500 million users worldwide. 
 To choose the right platform(s) for the specific needs of your business, your buyer persona, and your target audience, you need to understand the differences between various social media channels. This is the only way to get closer to your goal of making the perfect choice.
4. create unique and interesting content 
 Social media engages billions of users around the world. So you can be sure that many of the followers who view your profile also see content from your competitors or other companies in the industry. To stand out from the competition, you need to post interesting content on social media. For this reason, visitors to your social profiles should follow you and engage with your brand. 
 So we need to be creative. Look at your competitors' shared content and think about specific ways you can promote your products. You should also take advantage of the features provided by the platform you're using. 
 For example, you can create a live video on Facebook where you can share the latest details about a product launch or host a giveaway. 
 Loyal customers and supporters can also be a great help in content creation. You should take advantage of it. Repost their content and encourage them to use hashtags when they share reviews or post pictures of your products (similar to Frye's Instagram hashtag mentioned earlier).
 5. plan your posts 
 With a social media content management solution, you can easily arrange your content sharing on a schedule. With these tools you can create captions, prepare images and videos, and schedule your posts in advance. This way, your content will be shared according to a fixed schedule. 
 These tools are also suitable for setting up automatic monitoring of social networks. This means that social media management solutions will save you time and let you focus on other tasks. 
 6. analyze your impact and results 
 Social media marketing is essentially the use of marketing activities to achieve your goals. To know if you are on the right track, you need to track all your posts across all channels. To do this, you need to review and monitor your social media metrics. This is the only way you'll always know if you're meeting or even exceeding your set goals. 
 How often should you post on social media? 
 I'm sure you're wondering how often you should post content to your social networks? 
 As a rule, only post on social media if you have quality content to share. So there must be a reason to post content. Just follow the rule of thumb and you can't go wrong when posting content. 
 If you post too little, your followers will quickly forget about you. 
But if you post too often, your followers can easily get annoyed. Both scenarios can lead to interruptions and lower engagement.
To avoid this, there are numerous studies and resources you can look at to learn more about typical posting frequencies for social posts, categorized by industry and platform. 
Every company is different. You have to figure out for yourself what resonates with your target audience. You can then experiment with more or fewer posts and other factors, such as the time of day to post on social media. 
This way you can determine how to maximize engagement. 
-Social Media Marketing Metrics 
-Social media metrics are data that provide insights into how your content is performing and impacting your audience and customers on different platforms. These metrics can include data on engagement strength, likes, followers, shares, and any other interactions on each platform. In particular, you should track these 10 key metrics: 
-Engagement: This includes user activity such as clicks, comments, likes, and replies to your social media posts. There are also platform-specific interaction types, such as saved Instagram posts and pinned Pinterest posts. 
 Reach: Reach describes how many people have viewed content on your page or profile. 
 Followers: This is the number of people who have clicked the "Follow" button on your profile. They regularly check your content in their feed. 
 Impressions: Impressions indicate how many times a post has been viewed on your profile or page, whether or not the post was clicked on. This usually happens when subscribers browse their News Feed without clicking anything. 
.
 Video views: This is the number of views on YouTube, Facebook, Snapchat, Instagram, or other social media channels with video functionality. 
 Profile views: The number of people who opened your social media page in relation to profile views. 
 Mentions: This is how many times your audience has mentioned your profile in their posts. 
-Tags: When your audience adds your company profile name or hashtag to another post, it is called a tag. 
 Repost: When a member of your audience posts some of your content (e.g., messages) on their profile, it's a repost. 
 Shares: Shares are posts from your profile that your followers and audience share with others in their network. 
Simply apply the same tactics you use to generate leads and improve conversion rates to achieve all of the above impacts, grow your social media followers, and improve your profile interaction rates. 
 You can also engage with your followers more frequently by talking to them, tagging them in your content, answering their questions, and "liking" their posts. Also, don't forget to encourage "fans" to use hashtags and share your content (and in return, you can repost user-generated content). 
 Measuring social media marketing success 
 There are several ways to test social media marketing metrics. For example, you can use the analytics tools built into various platforms, such as Twitter Analytics or Instagram Insights. 
 Or you can use an analytics and tracking tool like Google Analytics. This tool is a good choice, especially if you want to track your social media and website stats. And as mentioned above, many social scheduling solutions have monitoring and tracking features. 
 All of these metrics tracking tools provide insights into what resonates with your subscribers and audience. And they provide insight into what you may need to change to improve engagement rates. 
Now that we have an overview of the benefits of social media marketing and how to develop a strategy, let's dive into the different resources that can help you get there.
Social Media Marketing Resources There are many resources you can use when developing a social media strategy for your business. With the following courses, training, and books, you'll feel more proficient when developing a social media marketing initiative for your business.
 Social media marketing courses and trainings 
 The following three methods can help you learn more about social media marketing if you feel it is necessary in your particular situation. 
 1. make a degree 
 Very few colleges offer real degrees in social media marketing. Certificates of completion in this field can also be obtained through online courses offered by various universities and institutes. 
 2. use of the e-learning site 
 Another great learning resource is LinkedIn Learning. This e-learning site offers training, tutorials, and courses on a variety of social media marketing topics. 
 3. get a certificate from a company 
 You can also get a certificate from a company. With this free certification, you'll learn how to interact with your customers and improve your conversion rates. You'll also learn how to develop strategies, expand your reach, and measure your social ROI. 
 Social Media Marketing Books You can also learn a lot about this topic by reading related social media marketing books. Here are some examples of highly regarded books on this topic:
 1. Adorable Social Media: How to Delight your Customers, Create an Irresistible Brand, and Be Great on Facebook by Dave Kerpen .
 This New York Times bestseller explains why interaction is actively using social media followers to attract customers and supporters. 
 The book shows you how to create effective content that your followers will interact with and share across your network. In addition, author Dave Kerpen explains why you need to constantly engage your followers with your content so you don't eventually lose them. 
 2. according to Gary Vaynerchuk, successful social media marketing is not about producing the more content the better, but rather publishing content on the right platform that is specifically tailored to your target audience .
 In this book, marketer Vaynerchuck explains how and how to use social media to build meaningful relationships with your followers and customers. You'll learn how to create memorable and unique content that sets your competitors' content apart. 
 3. B2B Social Media Book: Become a Marketing Superstar by Generating Leads with Blog, LinkedIn, Twitter, Facebook, Email, etc. by Kipp Bodnar 
 The most important questions and answers about social media marketing 
 We get the same questions over and over again when it comes to social media marketing. We answer them briefly and concisely. 
 Why is social media marketing important? 
 Better brand image, more reach, better understanding of target groups and more sales: these are the key benefits that speak for social media marketing. 
 How effective is social media marketing? 
 It depends on how you control your activities. If you implement your strategy successfully, you will see in the months and years that your traffic (e.g. on your online store) continues to grow. Especially if you spend money on advertising. 
 Plus, a professionally managed channel, strengthens your brand and increases your sales. You can also learn more about your customers and their needs, wishes and goals. This sustainably improves your communication. 
 How does social media marketing work? 
 As described here in the tutorial, you need to approach the issue strategically. Without a plan, goal, thoughtful and persistent implementation, you will not succeed. As a beginner, it's best to follow the steps and tips mentioned again and again. 
 What is social media marketing?
 The aspect covers a wide range of capabilities, activities and measures. It starts with the analysis of target groups and their specifics, strategic planning is also part of the "basics". Conception, design, implementation and publication of contributions take the longest. You should also spend enough time on follow-up and analysis of key metrics. 
 What do you need a social media marketing plan for?
A plan always consists of a goal and a strategy with planned actions. Arguably, it is an overarching document that all stakeholders can and should use for guidance. Accordingly, a social media marketing plan includes, among other things, the determination of the target audience, the selection of appropriate social networks, planned marketing actions and the selection of tools.social media essential. 
 How much does social media marketing cost? 
 If you do not spend money on advertising, your activity is theoretically free. They only cost a lot of time and energy. If, on the other hand, you have great photos from photographers and noble designs from graphic artists, then the first problems come your way. 
 If you outsource social media marketing to an agency due to a lack of in-house expertise and invest additional money in advertising, you will need an annual budget in the five- to six-figure range. 
Never neglect Facebook, Instagram and Co.  
 The reality is that billions of people are active on social media these days. It is therefore not surprising that so many companies and retailers or marketers use these channels to promote their products or services and interact with customers. 
 That's why developing a social media strategy specifically for your business seems like a big challenge. However, with a little preparation, the effort can be mastered: familiarize yourself with social media marketing trends and take advantage of the many resources on the topic. 
Don't waste time. Start developing a social media marketing strategy right away with the right goals to design the right activities. Redirect your traditional media channels to social to be more successful in the digital world. You'll soon see results: more followers, better interaction rates, and higher conversion rates.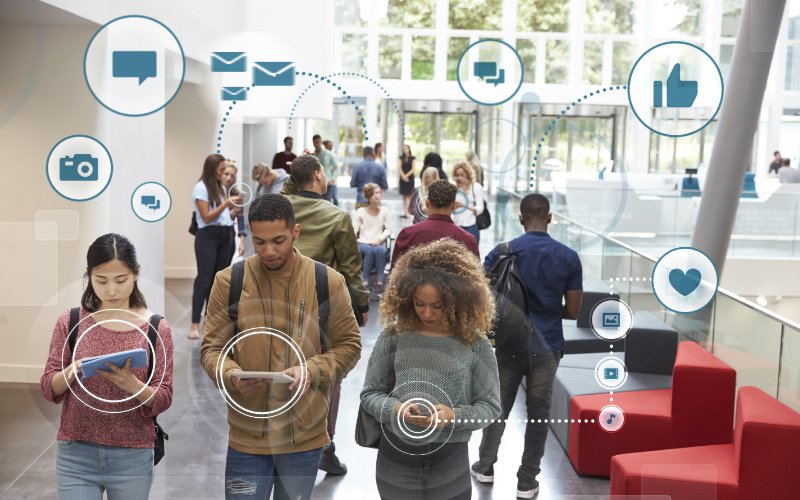 Monday
09:00 AM - 06:00 PM
Tuesday
09:00 AM - 06:00 PM
Wednesday
09:00 AM - 06:00 PM
Thursday
09:00 AM - 06:00 PM
Friday
09:00 AM - 06:00 PM