Search engine optimization - a holistic introduction:
For many companies, the topic of SEO remains a constantly changing book with seven seals. The year 2022 will also bring new challenges. 
 Technical references such as code structure, which leads to better loading times and thus an overall more pleasant user experience, is increasingly associated with issues around content optimization and usability.
This presents many website owners with the challenge of forcing their developers to work even more closely with web designers, who in turn must collaborate on the creation of websites. 
And everything that is strategically given to the overall online marketing concept can and will have a lasting impact on organic visibility. 
 As a web agency, many prospective customers ask us again and again: 
 "What does SEO mean or what does it mean?" 
 We'll solve the mystery so you can now navigate the sometimes mystical world of search engine optimization. 
 With our tips and tricks you will quickly realize: SEO has nothing to do with nonsense or an outdated search engine. A sophisticated strategy, a lot of diligence and patience are the basis of every professional search engine optimization.
Search Engine Optimization - BASICS
Is starts with three letters: SEO. It stands for Search Engine Optimization and includes all methods that are intended to help increase the visibility of a website in the search engine results (SERPs for short). SEO is roughly divided into two sub-areas: Onpage and Offpage Optimization.
 According to conventional definition, the former includes all technical and content improvements of a website, while the latter aims at building a page's position in SERPs based on its reputation. 
 SEO relevance 
 You may wonder why search engine optimization is so important. Quite simply, search engines remain the user's first port of call when it comes to finding out about a wide variety of topics and products. 
 A survey conducted by the Online Search Task Force in June 2017 found that using a search engine is the most common way to use the Internet. According to this study, 92.9% of respondents proudly stated that they use search engines frequently or at least occasionally.
Search engine optimization of one's own business in the search engines thus holds enormous economic potential.
Visible - or invisible on the web
In order for as many interested parties as possible to find your offer in the vast reaches of the Internet, professional search engine optimization is essential. How? Eye-tracking studies on user behavior in search results clearly show that interest in displayed articles continues to decline from top to bottom. 
 With a sophisticated website optimization strategy, you ensure that your content is more targeted at potential customers. The higher individual pages are placed in the organic search results, the more users can access your content. This increases click-through rates and traffic. 
 But what exactly are the principles that help one website rank better than another? To answer this question, it is necessary to understand how search engines work.
"Google search engine optimization" - the leaders of the search engines.
In view of the position of the Google search engine on the market, it becomes clear why search engine optimization makes sense for Google in particular.
The global market shares of the search engines (as of September 2018)
1. google (92.31%)
2. bing (2.27%)
3. yahoo! (2.51%)
Source: http://gs.statcounter.com/search-engine-market-share
Google, the giant. What began in 1998 as a bachelor's research project in a garage has long since secured a leading position in the search engine market. 
 For every query, Google uses a huge store of stored data called its index. This currently includes over a trillion entries aggregated by people known as crawlers. And much more! 
 With this amount, there are thousands upon thousands of pieces of information for a single query. In order to filter out the most relevant data and provide users with the best possible results, Google evaluates and ranks individual entries according to popularity, seriousness, topicality and value enhancement. 
 Over 200 different ranking factors play an important role! 
 To avoid ranking manipulation, the exact variables of Google's search algorithm are not known, but Google ranking can be improved with a few tricks – without breaking the formula guide of a great webmaster of Google. 
 To increase your website's online visibility, you need to convince Google that your website contains exactly what users are looking for in specific keywords. 
 How does it work? Read on with the following SEO metrics!
Of course, you want users to actually find your website. Therefore, make sure that your website content is actually accessible. Because even a small undefined line in the meta tags ensures that Google's crawlers do not index the corresponding page, which ultimately leads to the content disappearing into the Deep Web. 
 We are talking about the noindex tag, which is specified in the source code as follows:
<meta name="robots" content="noindex" />
However, if you don't want to manually check every source code of your versatile web presence, you have the option to simply use Site Query to check if all your web pages are available to the Google search engine. Simply enter the command "site:domain.tld" into the search box, where "tld" stands for your so-called top-level domain (e.g. .de or .com). 
 Also, you now have the option to view detailed index coverage reports in Google Search Console (formerly: Google Webmaster Tools). All URLs with errors or problems with Google indexing are listed here. 
 As if that wasn't enough, Search Console comes with a URL inspection tool that generates a lot of data about each individual URL. This includes Last Crawl Time, Indexing Validity and Crawl Rights – information that can be worth its weight in gold for webmasters!
Security = SSL certificate
A secure connection creates trust – especially at a time when data protection is a hot topic. No wonder that switching from HTTP to HTTP is no longer an option, but a prerequisite for good search engine optimization. 
 Pages that do not have a corresponding SSL certificate can be recognized by the missing green padlock in the browser bar. If, on the other hand, a visitor clicks on the info icon in the browser line, he gets the disturbing message "The connection to this page is not secure". 
 Starting with version 68 of the Google Chrome browser, the vulnerability of affected websites becomes even more obvious to visitors. The "Not secure" warning is then appended to the actual URL in the browser stream. 
 It is conceivable that potential customers will avoid such messages and turn to competitors. In the worst case, the increased bounce rate that the lack of SSL encryption can generate also has a negative impact on a page's ranking. 
 So show your visitors that you care about their safety while surfing the Internet.
Find the right search terms
Google indexes websites mainly on the basis of their readable content. By including topic-related search terms, or "keywords" in German, Google recognizes that the respective page is relevant in terms of content. 
The research and evaluation of search engine-related keywords are subject to certain criteria that contribute significantly to the success of website rankings:
– Search volume
– Competitiveness
– Conversion rates
– Spelling (plural or singular)
– Synonyms (semantically similar terms)
– Topicality
Keyword research and analysis requires a high level of technical knowledge in the use of various analysis programs. For this reason, SEO professionals are often called in for this task. 
 If you want to do your own keyword research, out of curiosity, check out Google Trends. This free tool gives you a first insight into the topics and search terms that are currently frequently searched for on Google.Alternatively, there are many third-party keyword help programs, but they are usually chargeable. You can get a clear impression of their performance with KWFinder from Mangools, which provides a useful selection of information on search terms – even free of charge up to a certain point.
Attention: Avoid keyword stuffing
Once the right keywords have been found, it is important to keep a sense of proportion. Unfortunately, there is still the misconception from long ago SEO days that web texts must contain as many keywords as possible in order for the page to rank well.
You can't put up with that these days. The so-called keyword stuffing not only annoys human readers, but also Google. Want to give it a try? Done – here's an example from Google's quality guidelines for using those supposedly superfluous keywords where the phrase "personal humidifier" is a bit of a mouthful.
 In some cases, a page with such content can be evaluated negatively. Google is less and less happy when a page appears over-optimized (we might as well say: unnatural) – keyword stuffing is just one aspect of this over-optimization. 
 Depending on the severity of the violation of Google's webmaster guidelines, individual rankings can be lowered, page-wide penalties can be imposed, or the page can even be permanently removed from the search index. 
 So don't overdo it with keyword density. The place where your keywords should still be is here:
– in the page title
– In headings
– in page content
– in file or directory names
– in link texts
– in the meta data
– in ALT attributes of images
Convince with unique content
For Google, more than ever, a positive user experience (page experience) clearly comes first. Google's main goal is to provide users with high-quality search results, but it also means that after clicking on a landing page result, users will find the information or offers they expect from them. 
 In a nutshell, "Great content deserves first place in the SERPs." 
 First rolled out in February 2011, the Panda update ensures, among other things, that pages with poorer content receive worse ranking results than those with higher added value. The Panda update is now a permanent part of Google's core algorithm – so make sure you have high-quality content! 
 But what is "quality content"? 
 Try to put yourself in the user's shoes. Are your visitors getting the information they want in their search query? The more targeted and/or original your content is in relation to user needs, the more Google will reward your efforts with a good ranking. 
 Profitable content is characterized by the following features:
– unique content
– Answers user questions
– not only includes keywords, but also explains them if necessary
– Users are addressed directly
– sensibly structured by headings and paragraphs
– loosened up by thematically appropriate graphics and pictures
– grammatically and orthographically correct
– writing style suitable for the target group
Also, avoid presenting your company in the best light by hook or by crook, for better or worse. Focus more on what your customers are looking for. Show them the supporting roles you can play. 
 Last but not least: To ensure that your texts shine not only on the desktop but also on mobile devices, you should use Responsive Design for your website. With this application, the display of your website automatically adapts to the respective device. 
 By following these tips, you increase the likelihood that visitors will stay on your website for as long as possible. This not only improves Google relevance, but also the likelihood that visitors will eventually become customers. 
 Mobile First – Is your website mobile? 
 It's no longer a secret that mobile devices like smartphones and tablets make up the majority of website visitors. Google has been promoting mobile-first for a few years now and plans to rank down or even remove from the index pages with content designed exclusively for desktops. 
 More recently, in the summer of 2020, Google announced that the final change would take place in March 2021 and there might even be an issue with separate URLs for the desktop and device versions for mobile devices (e.g. M-Dot speaking websites). 
 Google has published first information about the testing and the process. It is recommended, for example, to use the same robot meta tags for desktop and mobile versions and to prevent slow loading (content/objects are loaded from the data source only when needed) in mobile. Google also provides some best practices here.
Today, it's no secret that quick access to a website is crucial for users. 
Nobody likes to wait for anything – and at first glance we can see: The number of patients surfing the World Wide Web has been declining for at least the last ten years, at least as fast as the number of smartphone users is rapidly increasing . 
People even like to talk about the upper load time limit of 3 seconds.And even if this "3-second rule" is only half true, Google, fueled by the ongoing mobile boom, is showing itself increasingly ungrateful for slow websites. 
So don't be a lame duck on the internet! 
With the free Google PageSpeed Insights tool, you can check the speed of individual web pages or the average performance of your entire site (using the "origin:" operator). In addition to specifying the loading speed, the tool also gives you concrete optimization recommendations so that you can improve your page loading speed – for desktop and mobile web versions. 
To optimize page speed, there are three important things on the web that can have a big impact on rankings:
– CLS – Cumulative Layout Shift – describes the measure of how much the content of the page jumps while more content is being loaded.
– LCP – Largest Contentful Paint – describes the loading speed of the largest single object on a page.
– FID – First Input Delay – describes the response time of the page to the first user input.
Unfortunately, a blanket statement about which measures have the greatest effect cannot be made. As always, you need to test what works and what doesn't. However, CLS in particular can have a big impact on the user experience. Readers will get very tired of following an attractive article if it is constantly interrupted or unexpected ads appear. Google is getting better at collecting user data and incorporating it into reviews. Image optimization also plays a very important role in terms of loading times. Website operators should provide technical solutions for this (e.g. alternative image formats [webp etc.], optimized file sizes, persistent storage etc.).
You probably know those URLs that don't even give visitors an idea of what they have in store because of the number of characters they have coded. Here's an example: 
 https://www.domain.beispiel/2369-pageID_Dq2FFzdsfef/
Talking URLs let users and search engines quickly recognize what content they expect here. For this, it is important that keywords reflect the topic of the respective domain that is part of the URL. 
 This way, not only users but also search engines can better read the corresponding URL. Also, make sure that your URL structure is readable and not too complicated. 
 So our example URL optimization might look like this:
https://www.onlinelyitcs-marketing.de/search-engine-optimization
The metadata of a URL includes the title and description. Meta information is used to convey information or commands on a web page to a browser or Google bot.
The title tells search engines and users the general topic of the target page, while the description briefly describes the content. With this data, search engine crawlers can name web pages by topic.
Titles and descriptions are usually displayed to users as text snippets in SERPs. Therefore, they are the title of your website in search engine results. For this reason, content should be as concise and engaging as possible – so compelling that users can't help but click on it, so to speak.
 
Practical tips for your basic metadata:
 
– Each URL must have a description and a title.
– Page titles and descriptions must not be repeated.
– Title and description must contain certain characters or not exceed pixel width.
– The title and description must contain the keyword you want to rank for this page.
By the way: With the SERP snippet generator you can see how the search results of your website appear in the search engine results. Try it out with the free SERP snippet generator!
Other examples of meta information:
• Viewport-Befehl <meta name="viewport"> zwecks Anpassung an die Display-Maße
• Robots-Befehl <meta name="robots">, um die Indexierung zu steuern und Links auf nofollow zu setzen
• Autorschaft-Angabe <meta name="author">, welche den Bot über den Urheber der Inhalte informiert
• diverse Geo-Angaben, die Daten zur Region und Koordinaten enthalten.

All in all, there are many different ways to further specify or expand the content with meta tags. However, it is important here as well: Do not include as much as possible, but decide on a case-by-case basis which specifications are useful at all.
By the way: Have you ever wondered how some page managers manage to get rating stars in the search results? Such extensions are also based on metadata, more precisely on extended structured data or "rich snippets". 
.
So far we have described the search engine optimization domain metrics of onpage optimization, now we come to offpage optimization. 
 The main discipline of this subfield of SEO is so-called link building, which aims to improve rankings by building backlinks. If the links come from thematically relevant and authoritative domains, they help Google's crawlers to find the websites more easily, visit them more often and rank them better.
 Visitors can also be drawn to your own online content through other cleverly placed links. 
 For onsite content, the following has long been true for backlinks: quality takes precedence over quantity! 
 Google's algorithm now also recognizes lower links, so creating unfair links (e.g. links bought abroad) can result in a penalty.
When it comes to search engine optimization, DON'T CHEAT!
As already mentioned, over-optimized pages are evaluated negatively by Google. There was a time when Google could still be fooled by various factors, so that a page could be "pushed" to the top rankings relatively easily with schematic tactics. 
 But thanks to the "Panda" and "Penguin" algorithm updates, Google rankings can no longer be permanently manipulated by dubious methods such as keyword stuffing. Conversely, a deliberate violation of Google's search engine guidelines can lead to removal from the Google index. 
 And trust us: Google recognizes and evaluates all data that can be associated with webspam – this applies to page content as well as backlinks! 
Therefore, avoid agencies that use so-called black-hat SEO methods to manipulate rankings. You only risk that Google will penalize your page and in the worst case your users will not find it anymore.
Data-driven SEO 
Search engine optimization has been heavily data-driven for many years, and this trend will clearly continue through 2022. In the age of GDPR principles, when measurable amounts of data have been lost by 60% or more, there is a big challenge for search engine optimizers and web analysts. What data remains and how can we continue to make sense of it? Multiple data sources (Google Search Console, Google Analytics, but also third-party data sources and tools from the SEO environment) have to be connected and interpreted in a meaningful way in order to design an optimized SEO strategy and integrate it into an online marketing concept.
"If one is not patient in small things, one brings the great undertakings to failure."
How long does it take before the optimization is visible?
You have followed all our advice and now you are wondering how long it will take for these SEO measures to improve your Google results? Maybe you are impatient to click the refresh icon in the search engine results? 
 That's right. It's generally impossible to pinpoint the exact moment when search engine optimization starts delivering results. 
 How long it takes for your rankings to improve depends on a variety of factors, such as the popularity of the keywords you use. Even if you are a website owner just getting a foothold on the World Wide Web, Google needs to know your content first and classify it as "trustworthy".
Local SEO / Local Search Engine Optimization
You now have a first look at some of the SEO metrics you can use to improve your overall Google search ranking. 
 For business models that want to focus on a specific area, there is also a special SEO solution: Local Search Engine Optimization. 
 This fulfills the task of providing users with the most detailed information possible about service providers in the vicinity. 
Therefore, Local SEO is basically interesting for all company sizes, as the optimization is mainly aimed at reaching new potential customers on a regional level. Do you also want to improve your Google Local Search ranking? The first step to list your website on Google Maps is to sign up for Google My Business for free.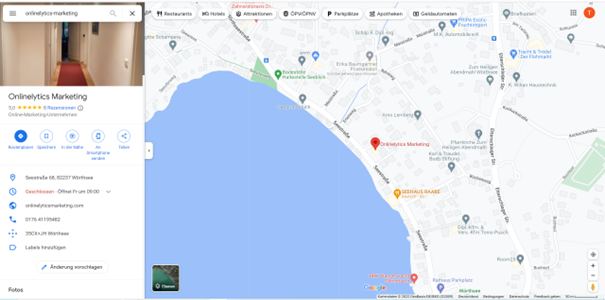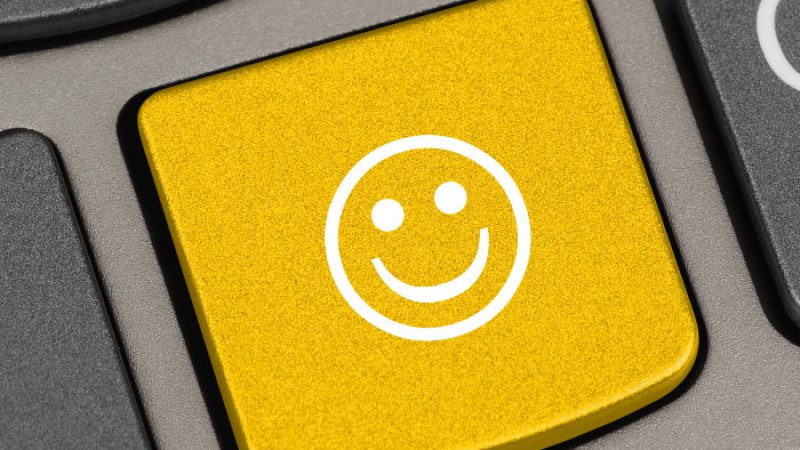 Monday
09:00 AM - 06:00 PM
Tuesday
09:00 AM - 06:00 PM
Wednesday
09:00 AM - 06:00 PM
Thursday
09:00 AM - 06:00 PM
Friday
09:00 AM - 06:00 PM